Expert Dental Implants
Enjoy a Permanent New Smile at The Smile Method
Dental implants are the most exciting way to replace your missing teeth. There are many types of implants available, but each one is carefully chosen based on the particular situation with each particular patient.
Extremely strong, implants are capable of supporting prosthesis like:
Porcelain crowns
Multiple tooth dental bridges
Implant dentures
How Implants Work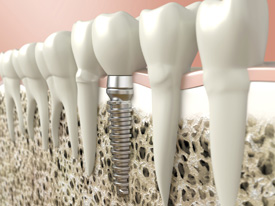 An implant simulates the exact function of a real tooth. The implant itself is the root simulation, screwed directly into the bone. Then a process called osseointegration occurs.
Osseointegration is the development of new bone that integrates the implant root directly with the bone, usually taking 3-4 months to complete.
Once new bone growth has occurred and the implant root is secure, we will then insert an abutment. Abutments secure the simulated version of the tooth, anchored onto the implant itself.
Since each person's smile is different, the implant restoration can't be just any crown. We will create a custom-made crown the same way we would for a natural tooth.
Once ready, the crown will be fitted onto the abutment, naturally following the contour of the patient's smile line and tissue appearance.
Do Implants Hurt?
Only very minor surgery is required to place the implant. In fact, it's even easier than having a tooth pulled. To avoid discomfort, follow instructions very closely in regard to diet and home care.
Am I a Candidate?
Very thorough diagnostics are needed to determine who is or is not a candidate for implants. We will take a series of X-rays, dental impressions and diagnostic casts to determine where the implant should be placed.
Contact Us
Visit The Smile Method for an early morning or late evening appointment to find out whether or not expert dental implants are right for you!

Dental Implants Gahanna, Upper Arlington OH | (614) 300-0748