Affordable Family Dentistry
We've made it easy for you to get back into the dental office. Whether you've put your care off for years or are new to the area, The Smile Method offers flexible appointment times and affordable services that you deserve.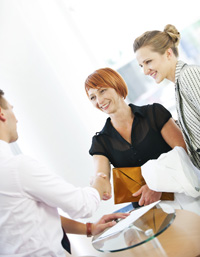 Your First Appointment
When you first call our office at (614) 300-0748 or request an appointment online. We are usually able to get you in within a week. Early morning, late evening and weekend appointment times are available.
Please expect to reserve about one hour of your time for this initial visit. Before your first visit, if possible, please register online as a new patient.
Once you arrive we will discuss your medical history, make a patient chart and take any necessary digital X-rays. You will then receive a thorough examination and cleaning directly with our dentist, minimizing the time you spend waiting between different providers.
If additional care is necessary we will discuss this in a customized treatment plan.
Most Dental Insurance Accepted
The Smile Method accepts most dental insurance plans and works hard to help you maximize the level of care provided by your plan.
Our Discount Dental Plan
If you don't have dental insurance, that's ok. The Smile Method offers an affordable discounted dental plan for just $39/mo. This plan includes all necessary preventative dental care as prescribed by our dental professionals and half off any other necessary procedures. Learn more >>
Payment Plans That Fit Your Budget
You can also take advantage of CareCredit for all of your oral care needs. With CareCredit you can enjoy 0% interest financing and low monthly payments.
Contact Us
Put your mind at ease. Our comfortable, friendly atmosphere will help you take the stress out of your dental care. Contact us today to get started on your journey to better oral health. Extended office hours are available!

What to Expect at The Smile Method | (614) 300-0748